---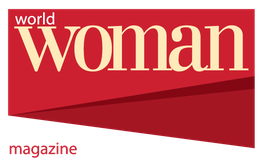 A GLOBAL WOMAN'S DIARY OF SUCCESS
Ever Young and Happy

Devoted Mother and Wife
Self-sufficient and Business Lady
Ambitious Individual
It`s all about YOU!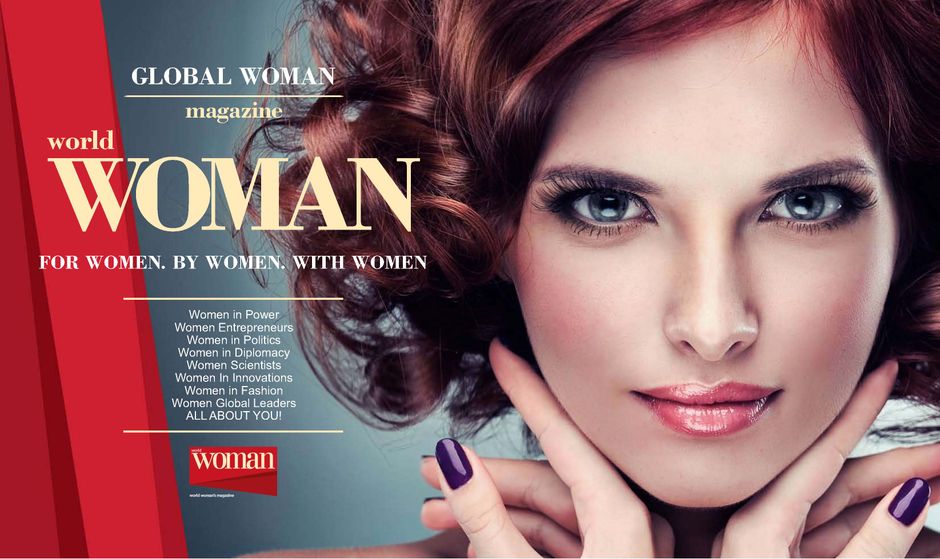 WOMAN Magazine
is for women who have achieved success in life and for readers who aspire to follow their example.
WOMAN Magazine
is for business promotion, relaxation, PR, and advertising.
WOMAN Magazine
is for sharing experiences, mentoring, coaching, and education.
WOMAN Magazine
is for advocating for equality and peace on the planet.
WOMAN Magazine
is for those who want to change the world and those who want to learn.
---

---
WOMAN Magazine is a source of inspiration and support for women who have succeeded in life and for readers who aspire to follow in their footsteps.
WOMAN Magazine is an inspiring and empowering guide for women who have already achieved significant success in their lives.
We provide them not only with important information and helpful advice but also with stories of successful women to inspire their further achievements.
For our readers who aspire to replicate the successes of these women, our pages serve as a source of motivation and actionable guidance.
In WOMAN Magazine, we demonstrate that anything is possible when you believe in yourself and pursue your path to success.
---

---
WOMAN Magazine is a valuable tool for business promotion, leisure, PR, and advertising.
WOMAN Magazine serves as an indispensable instrument for promoting your business.
We offer a multitude of articles and advertising opportunities that will help you attract new customers and enhance your company's image.
Furthermore, we also provide information on the best places for leisure so that you can relax and recharge after a hectic work schedule.
And if you need assistance with PR campaigns or advertising initiatives, our magazine offers expertise and knowledge to help you achieve your goals.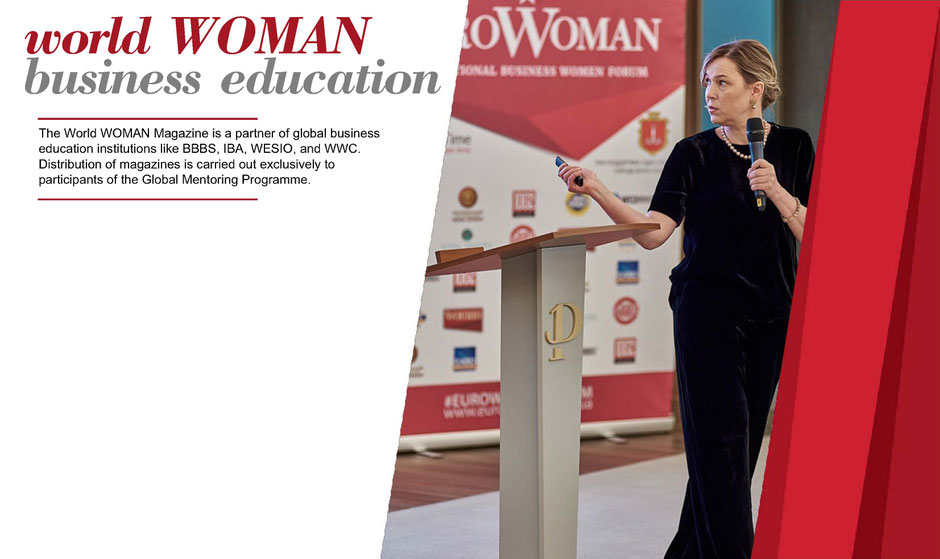 ---

---
WOMAN Magazine is a platform for sharing experiences, mentoring, coaching, and education.
WOMAN Magazine is more than just a magazine; it's a platform for sharing experiences and knowledge.
We offer mentoring articles and advice from leading experts in various fields. You will find information on coaching that will help you achieve personal and professional goals.
Additionally, we provide educational materials to help you expand your knowledge and skills. WOMAN Magazine is your trusted source of information, enabling you to become better and grow as an individual.
---

---
WOMAN Magazine: Advocating for Equality and Peace on the Planet
WOMAN Magazine takes pride in its fight for equality and peace. We support initiatives aimed at creating a fair society where women have equal opportunities and rights.
Within our pages, you will find articles dedicated to gender issues, feminism, and important movements that strive to overcome inequality.
We also shed light on problems related to peace and social justice to inspire our readers to actively participate in public life and make positive changes.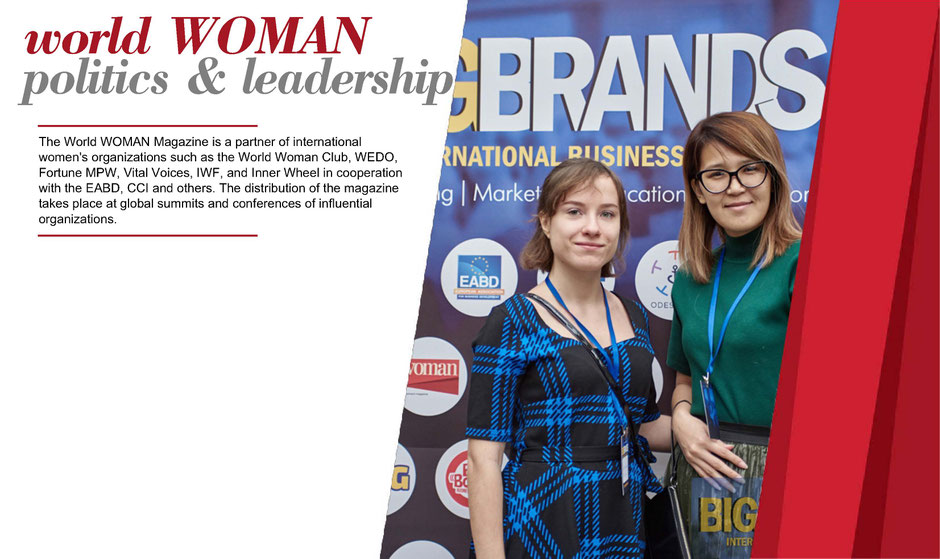 ---

---
WOMAN Magazine is for those who want to change the world and those who want to learn.
WOMAN Magazine is a publication for those who aspire to make a difference in the world.
We inspire our readers and provide them with tools for active participation in transforming society.
We feature stories of successful activists and leaders, as well as share ideas and practical advice on how to make positive changes in the world around us.
Our magazine is also geared towards those who seek continuous learning and growth. We offer articles that allow you to expand your knowledge, explore new horizons, and become better in various aspects of life.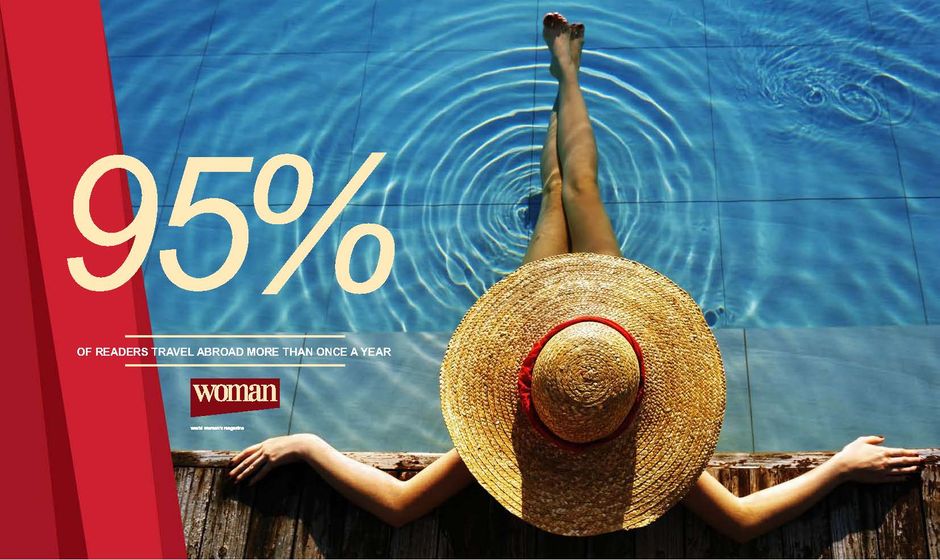 ---
Join our community and together
we will create a better future!
---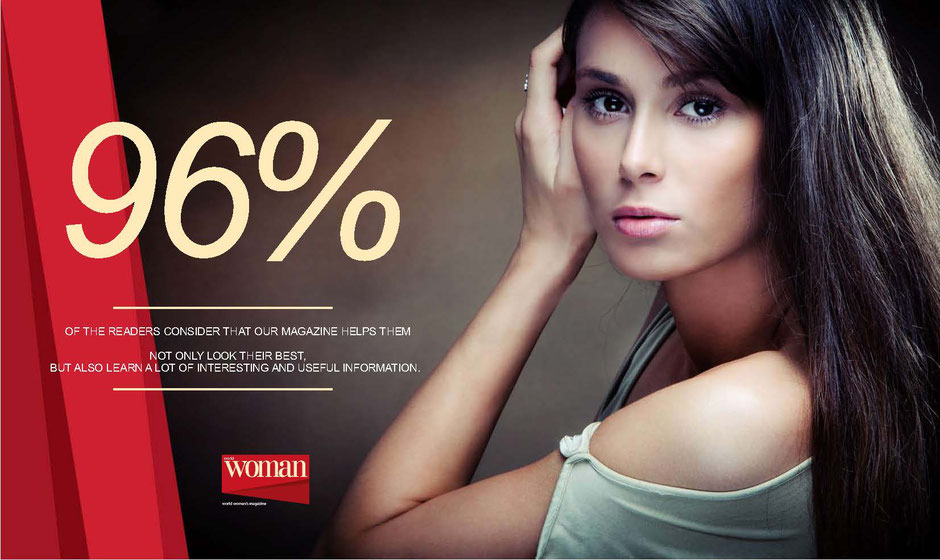 ---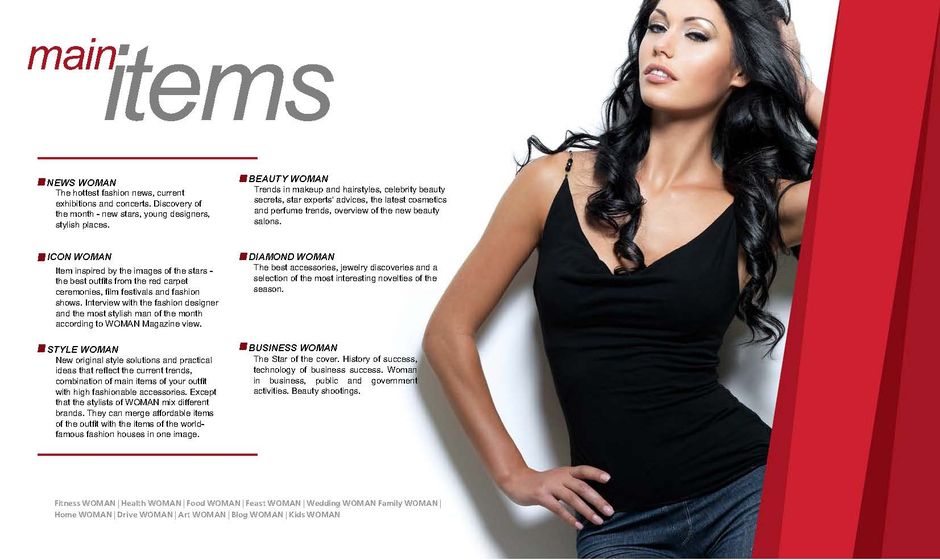 ---

---
The target audience of WOMAN magazine are successfulwomen aged 25-65 who
Have succeeded in their careers - 67.9%

Have fulfilled themselves in family life - 95.4%

Are married - 46.9%

Have children - 49.2%

Show interest in reading articles about new products and services - 89.8%

Watch advertisements to stay updated on market novelties - 59.9%

Want to be the first to purchase new services and technology - 62.3%

Choose products for themselves and their family members - 95.6%

Enjoy fashion experiments - 34.2%

Regularly use cosmetic products - 61.8%

Use cosmetics only from well-known brands - 54.2%

Strive to be leaders in everything and keep up with fashion and business trends - 67.6%

Have an income level that is average (59.3%), above average (26.1%), or high (11.2%)

Have social status as "specialists" (25.7%), "professionals" (32.4%), or "innovators" (15.6%)

Travel abroad for business and leisure - 72.7%

Use bank cards for payments - 58.6%

Have personal deposits in banks - 35.6%

Enjoy personal growth and learning - 69.8%.
---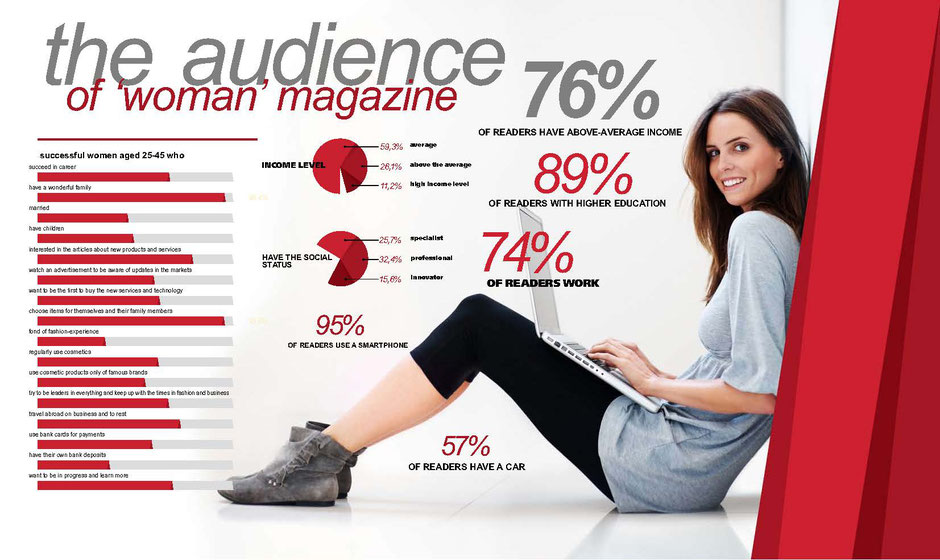 ---
74%
of readers work
89%
of readers with higher education
57%
of readers have a car
95%
of readers use a smartphone
76%
of readers have above-average income
95%
OF READERS GO TO HOLIDAY ABROAD MORE THAN 1 TIME A YEAR
---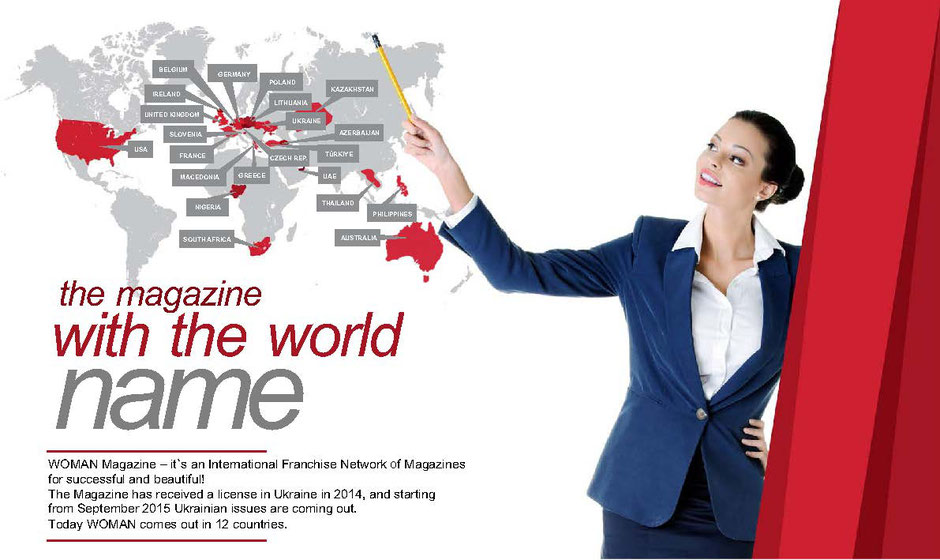 ---
Distribution of WOMAN
 
8%
Retail sales
68%
Events
5%
Advertisers and distribution agencies
8%
Beauty salons and boutiques

11%
Subscription
---
WOMAN Kids
The guide to children`s goods and also the guide to services for fashionable Moms.
Toys, clothes, cosmetics, development centers - all the fun for children from 0 to16 years.
---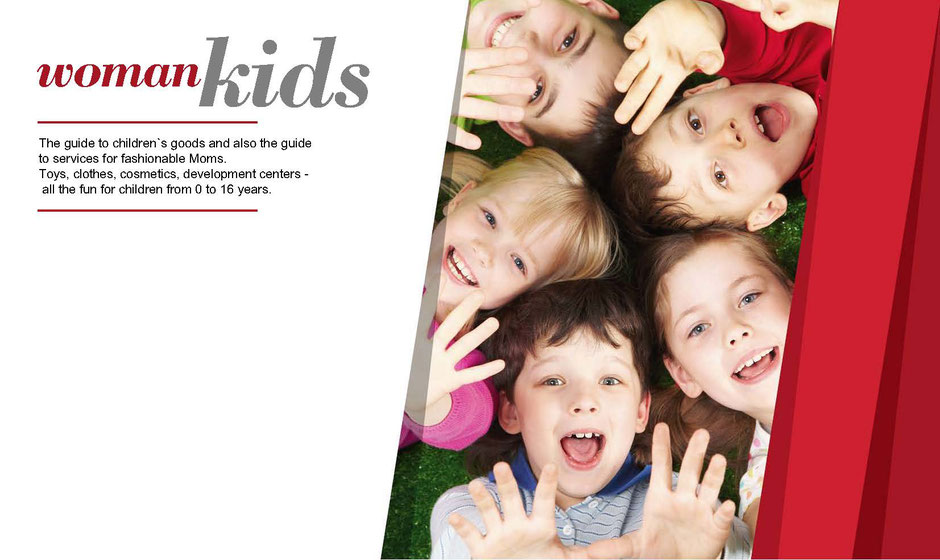 ---
Digital Woman
 99% of WOMAN readers use the Internet every day, so our Magazine is actively represented in the digital-space, Facebook, Instagram, Twitter.
---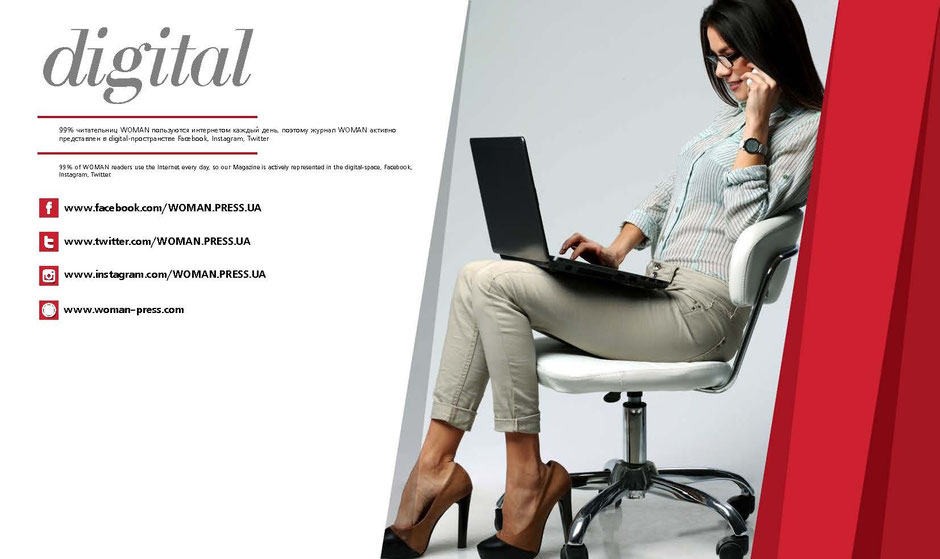 ---
Special promotional projects
 Photo sessions, interviews, reviews, comments of experts, detailed survey of the product or service that will help to convey to the reader the necessary information about the brand.
To create projects we engage editors and stylists of WOMAN, the same as well-known photographers, make-up artists and hairdressers.
The original layout, unique photography, creative approach - a team of professionals will make your advertising project effective and informative!
---

---
Partners Programmes
WOMAN develops and implements personalized Partners Programs for the customers.
Our servicesinclude:
● arrangement of customer`s events, open seminars and Speakers performances, themed brunches, gala dinners, workshops, beauty-parties;
● newsletters on the basis of WOMAN`s readers;
● joint loyalty programs in stores, salons, fitness clubs, etc.;
● design and development of joint products;
● comprehensive promotion of a product, service or brand.
---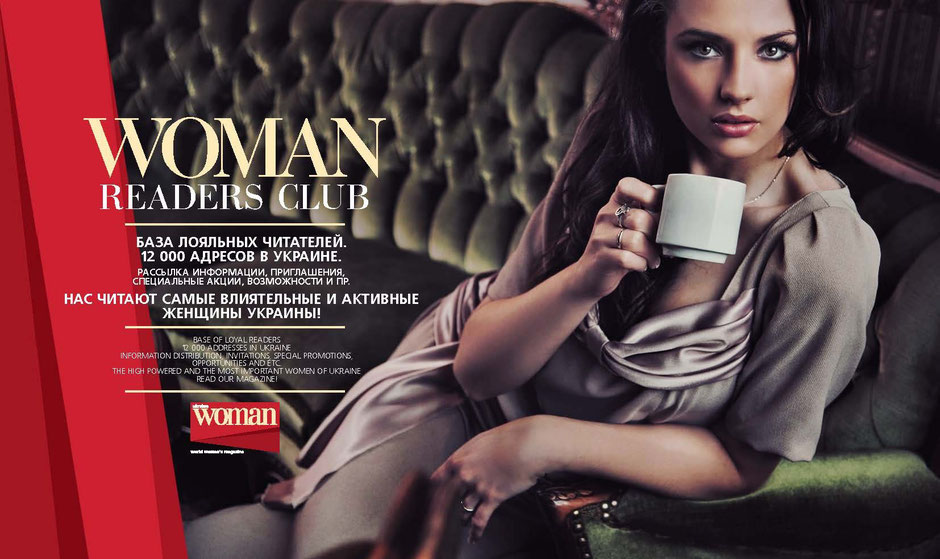 ---
PR & marketing
WOMAN - general partner of the major women's events in Ukraine
WOMAN – general partner
WOMAN – promotions organizer
---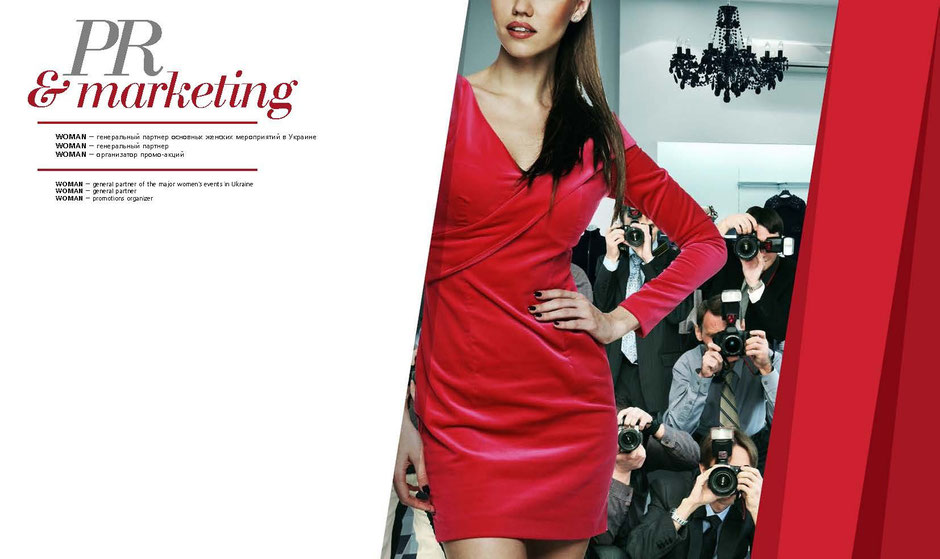 ---
Magazine "WOMAN" is the general information partner of the International Women's Business Forum "EUROWOMAN"
---
---
---